SBL Press Bookstore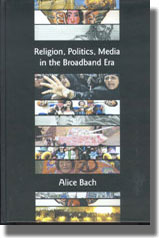 Religion, Politics. Media in the Broadband Era
Alice Bach
Publication Date
November 2004
Paperback
$19.50
Religion has gone public, and the much-discussed political pendulum has been swinging widely in its effort to keep up with the eruptions of faith swelling the broadband. Private faith finds very public outlets through the media's appetite for voices and choices. Faith-based networks have become media-savvy, urging their members to send barrages of e-mails, faxes, telephone calls, letters of praise or outrage to politicians. Those same politicians return the volley, using the broadcast media with great skill, wooing the faithful, convincing the cynical that God is on their side. Only a deity could be on so many sides simultaneously. Alice Bach's new book reflects her long-time focus on the Bible, religion, and culture. Popular religion is expressed within our culture in rock videos, televangelism, political rhetoric, children's books, films, and animations. Every sort of media from print to electronic to broadband is imbued with subtle and blatant religious imagery. The media are new; the message is not. The tightly woven pattern of religion, politics, and media has been part of the American fabric since the country was founded. When one examines this cultural cloth, threads of varying colors are revealed, threads whose twists reflect both media coverage of religion and religious views of the media.
Alice Bach holds the Archbishop Hallinan Chair of Catholic Studies and is Associate Professor of Religion at Case Western Reserve University, Cleveland, Ohio.
Click here for the paperback edition.
The SBL is the North American distributor for Sheffield Phoenix Press. Customers outside of North America can purchase this book directly from Sheffield Phoenix by clicking here.