SBL Press Bookstore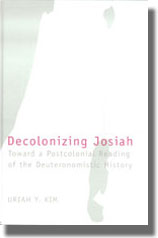 Decolonizing Josiah: Toward a Postcolonial Reading of the Deuteronomistic History
Uriah Y. Kim
Publication Date
June 2005
Paperback
$22.50
In the prevailing view, the Deuteronomistic History is the first and archetypical Western history, describing the creation of an Israelite state in Palestine as the origin of civilization in the region, a hegemonic culture rendering the other inhabitants of the country homeless in their own land. That view of Davidic domination over greater Palestine, fashioned under Josiah, has been given a modern nationalist reading by contemporary scholars, a reading consistent with the vast array of covert cultural confirmations of Euro-American imperial power. How is it possible, Kim asks, given the all-encompassing sway of the colonialist reading of the Bible, to understand Josiah in other than colonialist terms? His answer: the historical imagination, making unfettered use of the tools of the critical historian, must be informed by the experience of those who have lived as the other, as the colonized, as not at home in their own land—which means, for Kim, the experience of being Asian American. The intellectual use of this experience creates his distinctive postcolonial perspective, as he draws attention to the connection between Western imperialism and the production of Western knowledge. Specifically, the author reads the story of Josiah intercontextually with the experience of Asian Americans from the space of liminality. This is a passionate postcolonial reading of Josiah that, on one hand, critiques the failure of biblical studies to come to terms with its colonialist legacy and, on the other hand, connects the world of biblical studies to the world at large.
Uriah Kim is Professor of Hebrew Bible at Hartford Seminary, Hartford, Connecticut.
Click
here
for the paperback edition.
The SBL is the North American distributor for Sheffield Phoenix Press. Customers outside of North American can purchase this book directly from Sheffield Phoenix by clicking here.