SBL Press Bookstore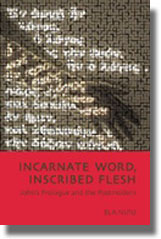 Incarnate Word, Inscribed Flesh: John's Prologue and the Postmodern
Ela Nutu
Publication Date
August 2007
Hardback
$85.00
The pre-existent, transcendent Logos, the principal character in the prologue of John's Gospel, is a prime example of a unified and centred concept, such as denounced as illusory by deconstruction. In this ground-breaking study, Nutu offers an unremittingly postmodern scrutiny of the Logos as the incarnate word that becomes visible as it is inscribed in human flesh. Within view also is the reverse process, of becoming 'children of God', which signifies human beings willingly accepting God's word, his tattoo, upon their flesh in order to pertain to the realm of the Logos.
A second strand of this book is Nutu's tracing the fragmented afterlives of John's Prologue and their different effects on the formation of subjects (with a particular focus on homo religiosus and feminine 'I's) through postmodern film. At the dawn of a new millennium, films continue to play an important role in the cultural development of society; even moving away from the self-confessed biblical films, new productions like The Pillow Book, The Fifth Element and The Matrix (all engaged here) mediate elements of biblical narrative, theology, allegory, ethics and identity.
As the Bible continues its influence on society and the formation of subject positions, biblical texts are re-interpreted, recycled within many discourses. This is a study that skilfully interweaves a number of contemporary theoretical currents such as deconstruction, psychoanalytical criticism, gender and cultural studies and initiates a new approach to interpretation, namely postcommunist, influenced by the writer's own experience of growing up in Romania.
Ela Nutu is Research Associate in the Department of Biblical Studies, University of Sheffield.
The SBL is the North American distributor for Sheffield Phoenix Press. Customers outside of North America can purchase this book directly from Sheffield Phoenix by clicking here.