SBL Press Bookstore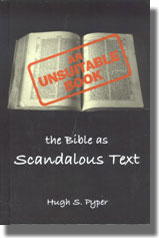 An Unsuitable Book: The Bible as Scandalous Text
Hugh S. Pyper
Publication Date
December 2005
Hardback
$85.00
The real "scandal" of the Bible, suggests Hugh Pyper, lies not in any salaciousness it may contain but in its deep impropriety as a venerable book and the "unsuitability" of its reality to the expectations of its readers. This collection of essays, published and previously unpublished, will delight readers with its wit and profundity. Among them, "The Selfish Text: Memetics and the Bible" deploys Richard Dawkins's notion of memes to advance the half-teasing, half-serious thesis that Western culture is the Bible's way of making more Bibles, "The Bible in Bloom" examines the usefulness or otherwise of Bloom's concept of the "anxiety of influence" in biblical studies, and "The Bible as Wolf: Tracking a Carrollian Metaphor in Biblical Studies," a tribute to Robert Carroll, the author's mentor, uncovers the polyvalence of the wolf metaphor in biblical and literary traditions and calls for the recovery of the "wild" text. Other papers are on women and silence (with a nod to Isak Dinesen and to Freud), on the violence in Lamentations as a deflection of anger from God and so a survival strategy for the community, and on modern "Gospels of Judas" that symptomize resentment against the canon.
Hugh S. Pyper is Senior Lecturer in Biblical Studies, University of Sheffield.
The SBL is the North American distributor for Sheffield Phoenix Press. Customers outside of North America can purchase this book directly from Sheffield Phoenix by clicking here.