SBL Press Bookstore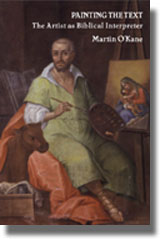 Painting the Text: The Artist as Biblical Interpreter
Martin O'kane
Publication Date
February 2007
Paperback
$29.95
In this masterly work, Martin O'Kane shows artists at work as readers of the Bible and not simply as illustrators of biblical scenes. The painter's eye commonly sees nuances and subtleties of plot and characterization in the biblical text that traditional biblical criticism has overlooked.
Focussing in fine detail on some well-known biblical themes--the deception of Isaac, the depiction of Isaiah's suffering servant, the visit of the Magi and the flight into Egypt, among others--O'Kane argues that modern readers need the artist's exegetical insight and engagement to fully appreciate the text.
Ranging widely over mediaeval, Renaissance and modern art, the author situates his work within the hermeneutical aesthetics of Hans-Georg Gadamer, Mieke Bal and Paolo Bernini. Some 30 images are reproduced in the text.
Martin O'Kane is Senior Lecturer in Biblical Studies in the Department of Theology and Religious Studies, University of Wales, Lampeter and Director of the Centre for the Bible and the Visual Imagination.
Click here for the paperback edition.
The SBL is the North American distributor for Sheffield Phoenix Press. Customers outside of North America can purchase this book directly from Sheffield Phoenix by clicking here.