SBL Press Bookstore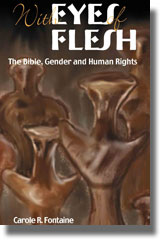 With Eyes of Flesh: The Bible, Gender, and Human Rights
Carole R. Fontaine
Publication Date
October 2008
Paperback
$29.95
Carole Fontaine, well known among biblical scholars for her feminist studies in the biblical wisdom traditions and the ancient Near East, is also a human rights and interfaith activist working on issues of violence against Muslim women in the Middle East and Southern Asia and a board member of many agencies such as the International Network for the Rights of Female Victims of Violence in Pakistan, and the Women's Forum against Fundamentalism in Iran.
In this collection of her essays, mostly previously unpublished, she brings together these two concerns, distilling from the scriptures of Judaism, Christianity and Islam valuable insights into current questions of human rights. Unlike many writers, Fontaine recognizes the critical role of gender in the fundamental concept of the 'Other', so determinative for our view of humanity.
In our days, Fontaine argues, human rights issues have taken on a new dimension in political discourse about war, peace and terror, where often an appeal is made to religious and scriptural justifications for the violation or preservation of rights. Fontaine urges attention to the priority of the sufferer in adjudicating meaning, and turns to the 'little texts' of daily ethics rather than grand theological abstractions in order to place 'scriptures' in meaningful conversation with the concrete realities of our world.
This is the second volume of the Amsterdam Studies in the Bible and Religion (ed. Athalya Brenner), a subseries of the Bible in the Moden World.
Carole Fontaine is John Taylor Professor of Biblical Theology and History, Andover Newton Theological School, Newton Centre, Massachusetts.
Click here for the paperback edition.
The SBL is the North American distributor for Sheffield Phoenix Press. Customers outside of North America can purchase this book directly from Sheffield Phoenix by clicking here.