SBL Press Bookstore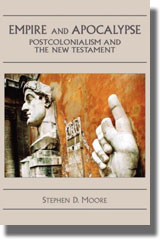 Empire and Apocalypse: Postcolonialism and the New Testament
Stephen D. Moore
Publication Date
October 2006
Paperback
$25.00
In Empire and Apocalypse Stephen Moore offers us the most complete introduction yet to the emergent field of postcolonial biblical criticism. It includes an indispensable in-depth introduction to postcolonial theory and criticism together with a detailed survey of postcolonial biblical criticism. Next come three substantial exegetical chapters on the Gospels of Mark and John and the book of Revelation, which together demonstrate how postcolonial studies provide fresh conceptual resources and critical strategies for rethinking early Christianity's complex relations to the Roman Empire. Each of these three texts, to different degrees, Moore argues, mimic and replicate fundamental facets of Roman imperial ideology even while resisting and eroding it.
The book concludes with an amply annotated bibliography whose main section provides a comprehensive listing of work done to date in postcolonial biblical criticism.
Click
here for the paperback edition.

Stephen D. Moore is Professor of New Testament and Chair of the Graduate Division of Religion at the Theological School, Drew University, Madison, New Jersey.

The SBL is the North American distributor for Sheffield Phoenix Press. Customers outside of North America can purchase this book directly from Sheffield Phoenix by clicking here.