SBL Press Bookstore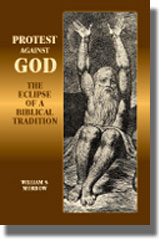 Protest against God: The Eclipse of a Biblical Tradition
William S. Morrow
Publication Date
September 2006
Hardback
$85.00
The Hebrew Bible contains many examples of protest or complaint against God. There are classic cases in the psalms of individual lament, but we find the same attitude in community complaint psalms, in the prophetic challenges to God, and in the book of Job. And yet, after the exile, the complaint tradition was largely suppressed or marginalized. In this imaginative book, Morrow asks the unheard of question, Why? A shift in the religious imagination of early Judaism had taken place, he argues, spearheaded by the psychology of trauma and by international politics. A magnification of divine transcendence downgraded the intercessory role of the prophet, controlled the raw pain of exile (Lamentations, Second Isaiah), and led to intransigent refusal of the logic of lament (the friends and Yahweh in Job). The theology of complaint was eventually overshadowed by the piety of penitence and praise (the Dead Sea Scrolls). Modern readers of the Hebrew Bible are not obliged to assent to the loss of lament, nevertheless. Ours is an age when the potency of the biblical complaints against God is being newly appropriated. Although the transcendental imagination of Western culture itself is moving into eclipse, a heightened individual consciousness has emerged. There may still be life, therefore, in the ancient prayer pattern of arguing with God, which assumes that worshipers have rights with God as well as duties, that the Creator has obligations to the creation as well as prerogatives. This stylish intellectual history will be welcomed for its scope, its panache and its theological engagement.
William S. Morrow is Associate Professor of Hebrew and Hebrew Scriptures, Queen's Theological College, Kingston, Ontario, Canada.
Click
here
for the paperback edition.
The SBL is the North American distributor for Sheffield Phoenix Press. Customers outside of North America can purchase this book directly from Sheffield Phoenix by clicking here.