SBL Press Bookstore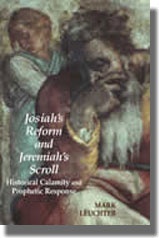 Josiah's Reform and Jermiah's Scroll: Historical Calamity and Prophetic Response
Mark Leuchter
Publication Date
November 2006
Hardback
$85.00
This exciting new study of the prophet Jeremiah attributes to him a pivotal significance in the historical period of Josiah's reign. He was, so Leuchter argues, one of the central agents of Josiah's propaganda machine and was intimately involved with the king's political agenda. Jeremiah, himself originally a member of the scribal school that composed the Deuteronomistic literature, encouraged the Shilonites of Anathoth to become active in Josiah's program in the North following the waning of Assyrian power. Dismayed by the Shilonites' rejection of him and Josiah, and by the king's death at Megiddo, Jeremiah came to a radically new understanding of the divine purpose, encapsulated in the famous temple sermon of Jeremiah 7 and evidenced in the prophet's debates with the political establishment in Jerusalem in the years that followed.
In his thoroughgoing historical reconstruction, Leuchter outlines a very specific sequence of events that took their rise from the Shilonite rejection of Deuteronomic policy and on that basis carefully demarcates the texts that would have been included in Jeremiah's first scroll (the Urrolle). Leuchter's monograph will make an important contribution to the study of the history and the literature of the late seventh century B.C.E.
Mark Leuchter is Assistant Professor of Bible, Hebrew College, Newton Centre, Massachusetts.
The SBL is the North American distributor for Sheffield Phoenix Press. Customers outside of North America can purchase this book directly from Sheffield Phoenix by clicking here.