SBL Press Bookstore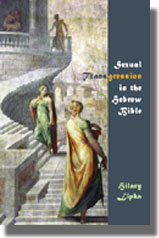 Sexual Transgression in the Hebrew Bible
Hilary Lipka
Publication Date
April 2006
Hardback
$95.00
The sex laws of the Hebrew Bible are well known, if not notorious. From them many have concluded that in ancient Israel adultery was a capital crime, that there was no conception of rape, that brides had to be virgins, and that women had no autonomy whatsoever. But was that the reality? Not if we broaden our horizon beyond the laws, argues Lipka, who focuses here on sexual transgression, that is, the trespass against sexual boundaries.
She finds three aspects of sexual transgression: it may be transgression against religious boundaries (sexual acts violating divine law), against communal boundaries (sexual acts violating the rights of another member of the community), or against personal boundaries (sexual acts imposed by force and/or violence). Transgressive sex is complicated.
But some conclusions are possible. (1) Though adultery was universally disapproved of, there was a wide variety of opinions on who was considered guilty, who was considered the offended party, who was punished, what the punishment was, and who should execute it. (2) There was indeed a conception of rape, with an understanding of its devastating emotional and psychological consequences for the victim. (3) Though virginity in brides was the norm and young women were under a great deal of pressure to preserve their virginity, it was unrealistic for all men in ancient Israel to expect their wives to be virgins. (4) Women did not enjoy legal autonomy over their sexuality, yet they were not completely powerless; they had some degree of personal sexual autonomy, and some took the liberty of doing with their bodies as they pleased.
Hilary Lipka is Research Scholar at the UCLA Center for the Study of Women.
The SBL is the North American distributor for Sheffield Phoenix Press. Customers outside of North America can purchase this book directly from Sheffield Phoenix by clicking here.