SBL Press Bookstore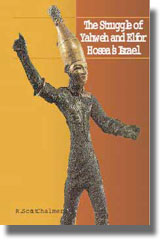 The Struggle of Yahweh and El for Hosea's Israel
R. Scott Chalmers
Publication Date
January 2010
Hardback
$85.00
In this provocative new proposal, Chalmers presents the prophet Hosea as engaged in a polemic against the Canaanite deity El. Especially in chapters 11–13 Hosea is exposing the northern kingdom's fatal error of mistaking El for Yahweh (just as, in Hos 1–2 it was Baal who was wrongly identified with Yahweh). Here Hosea is asking, "Who is the god of Jacob? Who is the god of the exodus?" His answer is: not El—as in many Israelite traditions—but Yahweh.
This recognition leads Chalmers to reconstruct the "back story" of the god El, from the sanctuary narrative in Genesis 28, the Balaam oracles in Numbers 22–24, and the account of Jeroboam's cult in 1 Kings 12. Against the standard view that there is no polemic against El in the Hebrew Bible, Chalmers argues that the recurring polemic against the sanctuary at Bethel may have less to do with "golden calves" or antinorthern rhetoric than with a much older debate about the identity of the god worshiped at Bethel.
The second half of this book goes beyond the sanctuary at Bethel to the existence of a deity named Bethel. Just as the cults of Yahweh and El were closely related in Hosea's eighth-century Israel, in the fifth-century Jewish settlement at Elephantine Yahweh and Bethel seem to be almost interchangeable. Since the religious beliefs on display in Elephantine show some striking similarities to that of Hosea's northern kingdom, the earlier Yahweh–El dynamic and the later Yahweh–Bethel dynamic may effectively interpret one another.
R. Scott Chalmers is Visiting Assistant Professor, Religion Department, Pacific Lutheran University, Tacoma, Washington.
The SBL is the North American distributor for Sheffield Phoenix Press. Customers outside of North America can purchase this book directly from Sheffield Phoenix by clicking here.