SBL Press Bookstore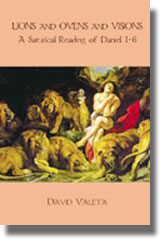 Lions and Ovens and Visions: A Satirical Reading of Daniel 1-6
David Valeta
Publication Date
October 2008
Hardback
$90.00
Are the stories of Daniel at the court of the Persian king simply cheerful tales of a clever and successful courtier, as many assume? Valeta doubts it, insisting that the playful and fantastic storyline must have a more serious meaning. The key to these narratives lies in their genre. These tales of lions and ovens and the like are examples of Menippean satire, argues Valeta, an ancient genre foregrounded in modern literary study by Bakhtin, who saw in the characteristic interplay of voices in the Menippean satire a prime instance of his "dialogism." Especially typical of the Menippean satire is an indecorous mixing of styles and elements, which may be the explanation why the Daniel narratives are both comic and serious, Hebrew and Aramaic, episodic and unified.
Viewed as satire, the Daniel narratives emerge in their true colors as resistance literature to the regime of Antiochus IV—and so form a perfect accompaniment to the visions of Daniel 7–12.
David Valeta is Lecturer in Religious Studies, University of Colorado, Boulder, Colorado.
The SBL is the North American distributor for Sheffield Phoenix Press. Customers outside of North America can purchase this book directly from Sheffield Phoenix by clicking here.