SBL Press Bookstore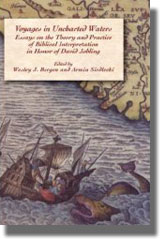 Voyages in Uncharted Waters: Essays on the Theory and Practice of Biblical Interpretation in Honour of David Jobling
Wesley J. Bergen, Armin Siedlecki
Publication Date
February 2007
Hardback
$85.00
This volume honors the work of David Jobling, the distinguished Professor of Old Testament Language and Literature at St. Andrew's College, Saskatoon, Canada. Jobling has been noted for his adventurous forays into the theory and practice of biblical interpretation, especially of the Hebrew Bible, and for his interdisciplinary bridge-building. The volume is divided into three sections corresponding to three of Jobling's principal interests, each section being prefaced with an introduction to his work in that area by the editors.
Section 1 is on post-structuralism, with contributions by Gary Phillips, George Aichele, Francis Landy, Robert Culley and Matthew Mitchell. In section 2, on ideological criticism, the authors are Roland Boer, David Gunn, Volker Greifenhagen and Tina Pippin. Section 3, on global readings, contains papers by Gerald West, Jione Havea, Ed Conrad and Norman Habel.
The Festschrift concludes with personal tributes by Christopher Lind and Norman Gottwald.
Wesley J. Bergen is Visiting Assistant Professor in the Department of Religion, Wichita State University, Kansas. Armin Siedlecki is a Catalog Librarian at Pitts Theology Library, Emory University, Atlanta.
The SBL is the North American distributor for Sheffield Phoenix Press. Customers outside of North America can purchase this book directly from Sheffield Phoenix by clicking here.