SBL Press Bookstore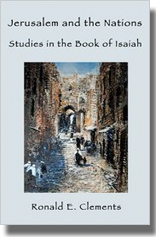 Jerusalem and the Nations: Studies in the Book of Isaiah
Ronald E. Clements
Publication Date
September 2011
Hardback
$90.00
This volume contains the fruit of three decades of Ronald Clements's researches on prophecy in the Old Testament. In sixteen papers, seven of them not previously published, he broaches several leading questions about the origins of written prophecy in the Old Testament. A major focus is on the impact of the events of 701 B.C.E. on the formation of the Isaiah book as a whole and the rise of Jerusalem as a center of religious hope. Further studies deal with the role of the Isaiah book in current biblical interpretation and the failure of twentieth-century interpreters to explain its unity. Other subjects concern ideas of divine providence, theodicy, and the links between ancient scribal methods of book formation and canonical authority. Special attention is given to the attempts to retain traditional Christian approaches to a book, the interpretation of which has been greatly transformed by modern critical study.
Ronald E. Clements was formerly Samuel Davidson Professor of Old Testament Studies at King's College, London.
The SBL is the North American distributor for Sheffield Phoenix Press. Customers outside of North America can purchase this book directly from Sheffield Phoenix by clicking here.