SBL Press Bookstore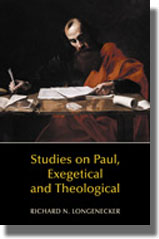 Studies on Paul, Exegetical and Theological
Richard N. Longenecker
Publication Date
December 2006
Paperback
$22.50
Masterly, balanced, concise, jargon-free essays on topics central to the theology of Paul, remaining closely in touch with the biblical text itself while always alert to the range of scholarly opinion and debate. These eleven articles from a recognized leader among New Testament scholars are an attractive entry point for students into key aspects of Paul's thought and are, equally, well worth revisiting by experienced scholars. Two essays concern Paul's personal life, one on the impact of his conversion on his understanding of Jesus and one on his experience of prayer. On Galatians, Longenecker explores the idea of the "pedagogue," and on Romans the questions of its addressees and its purpose. Other themes are Paul's vision of community formation, his concept of mutuality, and the variability of his responses to opponents. In the last three essays, the focus is on Paul's theology of the resurrection—its basis, its background in Jewish thinking, and whether his thought on the subject underwent development.
Richard N. Longenecker is Distinguished Professor of New Testament at McMaster Divinity College, Hamilton, Ontario, Canada
Click
here
for the paperback edition.
The SBL is the North American distributor for Sheffield Phoenix Press. Customers outside of North American can purchase this book directly from Sheffield Phoenix by clicking here.