SBL Press Bookstore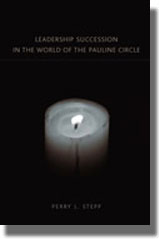 Leadership Succession in the World of the Pauline Circle
Perry L. Stepp
Publication Date
December 2006
Paperback
$22.50
Since New Testament times, the discussion of leadership succession in the church has always been polemical. But what the New Testament, especially in the Pastoral Epistles, means in speaking of succession deserves a more sober investigation in the light of the literary tradition about succession in the ancient Mediterranean world. How is succession actually depicted in Greco-Roman texts and in Jewish and early Christian texts of that world?
This book undertakes, for the first time, a thoroughgoing analysis of the evidence, deftly laying out the data from a wide range of Greek and Roman writers. The question then becomes how the early readers of the New Testament, conditioned by prior knowledge of such epistolary and other literary conventions, would have interpreted Paul's relationship with his delegates, such as Timothy and Titus, and how they would have conceived the ministry portrayed in the Pastorals as passing from a leader to a successor. Stepp's study has important implications both for our understanding of the ancient Mediterranean world and for our conceptions of ordination and ministry in the New Testament.
Perry L. Stepp is Associate Professor of Biblical Studies, Kentucky Christian University, Grayson, Kentucky.
Click
here
for the paperback edition.
The SBL is the North American distributor for Sheffield Phoenix Press. Customers outside of North America can purchase this book directly from Sheffield Phoenix by clicking here.