SBL Press Bookstore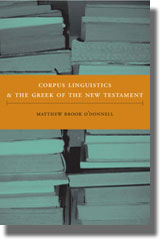 Corpus Linguistics and the Greek of the New Testament
Matthew Brook O'donnell
Publication Date
February 2007
Hardback
$95.00
The burgeoning field of corpus linguistics studies aspects of a language that are susceptible to computer processing once a sizable electronic corpus of the language has been assembled. In this groundbreaking work, O'Donnell takes the unusual step of applying the techniques of corpus linguistics to Hellenistic Greek, and especially the Greek of the New Testament, and shows in three areas, with a multitude of worked examples, how it could sharpen our appreciation of the language.
First, in New Testament textual criticism decisions for a preferred reading would be better founded if all analogous data in all the manuscript traditions were available. And in source criticism, where statistical methods have already been applied, more advanced statistical and graphical techniques, including dotplot, can now be exploited.
The second application of corpus linguistics is to lexicography, where, for example, collocational analysis of a corpus of texts leads to sharper definition of synonyms; the case of the pair egeiro and anistemi ("raise"), considered in detail, proves the point.
Third, corpus-based techniques can be applied to discourse analysis. Here O'Donnell fine-tunes—by means of a subtle discourse annotation model—answers that may be given to questions about the situation and purpose of the letters of Jude and of Paul to Philemon.
This book, though technical in many parts, opens up a new field to many biblical scholars, who may be surprised to discover how much they still have to learn about the Greek of the New Testament.
Matthew Brook O'Donnell is Director of Research and Development for OpenText.org, and Adjunct Professor at McMaster Divinity College, Hamilton, Ontario.
The SBL is the North American distributor for Sheffield Phoenix Press. Customers outside of North America can purchase this book directly from Sheffield Phoenix by clicking here.