SBL Press Bookstore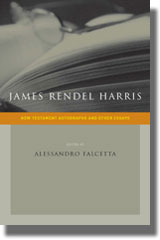 James Rendel Harris: New Testament Autographs and Other Essays
Alessandro Falcetta, editor
Publication Date
February 2007
Hardback
$95.00
James Rendel Harris (1852–1941) was one of the most prolific and influential New Testament scholars of his time. He opened new paths in textual criticism, brought to light hitherto lost early Christian writings, and gathered major collections of Syriac manuscripts and Greek papyri.
An introductory essay sketches Rendel Harris's life and works, while the rest of the book collects published essays and unpublished lectures and letters written by Rendel Harris over a span of fifty years, providing an essential picture of his scholarship. The papers include a lively and first-hand account of the controversies over the Hort-Westcott Greek New Testament; the suggestion of using mathematical devices for reconstructing New Testament autographs; the finding of the only known Diatessaronic reading in a Greek New Testament; the account of Rendel Harris's initial "discovery" of testimonia collections and his two last daring essays on the topic; one of the first proposals of a wisdom hymn lying behind John's prologue (including the author's unpublished notes for a future edition); and, finally, an entertaining guide for the manuscript hunter.
The personal correspondence at the end of the volume throws light on the driving forces of Rendel Harris's scholarship and on his own assessment of his work on the testimonia. The goal of his studies was to draw attention to new or little-explored topics and to provoke his colleagues to carry out fresh research on what they had overlooked. This collection aims at the same goal.
Alessandro Falcetta holds a Ph.D. from the University of Birmingham and has completed a postdoctoral fellowship at the Fondazione per le scienze religiose Giovanni XXIII in Bologna.
The SBL is the North American distributor for Sheffield Phoenix Press. Customers outside of North America can purchase this book directly from Sheffield Phoenix by clicking here.