SBL Press Bookstore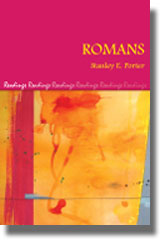 Romans
Stanley E. Porter
Publication Date
April 2012
Paperback
$25.00
This new addition to the Readings series of commentaries, expounding the letter paragraph by paragraph, is distinctive among commentaries on Romans in foregrounding a literary approach. To comprehend the letter, Porter shows, we must always be aware of the letter-writing and rhetorical conventions its author was deploying.
The commentary is organized around the five-part epistolary structure that Paul developed for this fundamental letter, a structure that gives shape to its logically unfolding theological argument. Recognizing this structure is vital for interpreting the traditional sections of the body of the letter, as well as for understanding the placement of the problematic chapters 9–11 within Paul's thought.
One of the primary means of development Paul uses within the letter is the diatribe style as a rhetorical device for shaping and presenting his argument. Through the insistent questions and responses of the diatribe, Paul opens up the major theological issues of the letter—human depravity, sin and works, justification and righteousness, reconciliation, life in the Spirit, and the role of Israel.
Stanley E. Porter is President and Dean, and Professor of New Testament, at McMaster Divinity College, Hamilton, Ontario.
Click here for the paperback edition.
The SBL is the North American distributor for Sheffield Phoenix Press. Customers outside of North America can purchase this book directly from Sheffield Phoenix by clicking here.