SBL Press Bookstore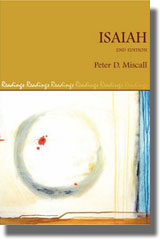 Isaiah
Peter D. Miscall
Publication Date
November 2006
Hardback
$60.00
Peter Miscall's commentary on Isaiah was among the first volumes in the series Readings published by JSOT Press in 1993. Sheffield Phoenix Press is now relaunching the series, under the editorship of John Jarick, with a revised reprint of Miscall's work (including a new preface), and an entirely new volume on Haggai by Tim Meadowcroft.
The aim of the series remains to present compact literary readings of the biblical books, unencumbered by the paraphernalia of traditional criticism and alert to the impact of literary studies on biblical interpretation. Each contributor to the series approaches the text from his or her own personal literary position.
In this fine and characteristic study, Miscall concentrates especially on the play of images in the prophetic book, their interweaving and constant intertextuality.
Peter D. Miscall is the author of The Workings of Old Testament Narrative (1983), 1 Samuel: A Literary Reading (1986), Isaiah 34–35: A Nightmare/A Dream (1999), and Reading Isaiah: Poetry and Vision (2001).
Click
here
for the paperback edition.
The SBL is the North American distributor for Sheffield Phoenix Press. Customers outside of North America can purchase this book directly from Sheffield Phoenix by clicking here.