SBL Press Bookstore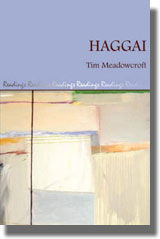 Haggai
Tim Meadowcroft
Publication Date
November 2006
Paperback
$25.00
This new commentary is organized around a distinctive discourse analysis of the small prophetic book of Haggai and an appreciation of its tightly crafted narrative. Identifying six discrete oracles from the prophet Haggai, Meadowcroft structures his analysis of the narrative around those six oracles.
Thematically, the center of Haggai's prophecy is the role of the temple within the life of the people of God. The desolation of the temple is bound up with the desolation of the land and the desolation of the people on the land. Rebuilding the temple will be the means of breaking the cycle of desolation. But things are more complex than that: rebuilding the temple must happen within the fraught imperial context, and rebuilding the temple will foreground a tension between institutional life and the life of the Spirit.
Contextualizing Haggai in today's world, Meadowcroft offers an extensive prolegomenon on reading Haggai as scripture. In it he hears a challenge to the church in the West and a call to rediscover humanity's priestly role in the temple of an environment under threat of desolation.
Tim Meadowcroft is Academic Dean of the Bible College of New Zealand and Lecturer in Old Testament Studies in the Tyndale-Carey Graduate School in Auckland, New Zealand.
Click
here
for the paperback edition.
The SBL is the North American distributor for Sheffield Phoenix Press. Customers outside of North America can purchase this book directly from Sheffield Phoenix by clicking here.