SBL Press Bookstore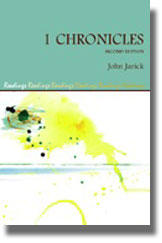 1 Chronicles, Second Edition
John Jarick
Publication Date
November 2007
Paperback
$25.00
The books of Chronicles have a certain fantasy quality about them. They create an imaginary world in which things happen just so and in which any potentially untidy loose ends in their narrative of the past are tied together in a highly systematic way. This is storytelling with the didactic purpose of inculcating a particular ideology, bombarding the reader with a kaleidoscopic procession of heroes and villains and presenting a frontierland of danger and opportunity.
John Jarick's focus on the literary world of Chronicles provides a fresh reading of the work, foregrounding the often unrecognized artistry in the telling of the tale—including at times a distinctly musical language and a careful mathematical precision. But at the same time he does not hide the dark underbelly of the writing, with its persistent note of conformity to the political and religious system advocated by the storytellers.
This edition is a reprint of the original 2002 edition with different pagination. A companion volume on 2 Chronicles was published for the first time in 2007.
John Jarick is Old Testament Tutor at St. Stephen's House, Oxford.
Click here for the paperback edition.
The SBL is the North American distributor for Sheffield Phoenix Press. Customers outside of North America can purchase this book directly from Sheffield Phoenix by clicking here.