SBL Press Bookstore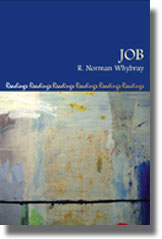 Job, Second Edition
R. Norman Whybray
Publication Date
September 2008
Paperback
$25.00
This commentary on the book of Job is nontechnical but full of Whybray's most mature reflections on the book. The introduction deals with the nature and purpose of the book, its specific and distinctive theology, its themes, and its various parts and their mutual relationship. Thereafter, Norman Whybray, who is renowned for his insightful commentaries, usually comments on small sections of the text, even verse-by-verse in some especially difficult passages. As a whole, his commentary is illustrative of the fact that the book of Job is more concerned with the nature of God than with the problem of suffering. This is a reprint of the original edition in 1998.
Norman Whybray, who died in 1998, had been Professor of Hebrew and Old Testament Studies in the University of Hull.
Click here for the paperback edition.
The SBL is the North American distributor for Sheffield Phoenix Press. Customers outside of North America can purchase this book directly from Sheffield Phoenix by clicking here.