SBL Press Bookstore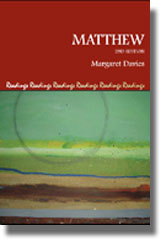 Matthew, Second Edition
Margaret Davies
Publication Date
March 2009
Paperback
$25.00
Margaret Davies takes up the insights of reader-response criticism to explore how the conventions and strategies of the Gospel of Matthew draw the reader into the world that the text creates. There is a recognition also of the text's significance as authoritative scripture for modern Christians and the bias that this gives to any interpretive strategy.
This is a reprint of the 1993 edition.
Margaret Davies was formerly Senior Lecturer in Biblical Studies, University of Sheffield.
Click here for the paperback edition.
The SBL is the North American distributor for Sheffield Phoenix Press. Customers outside of North America can purchase this book directly from Sheffield Phoenix by clicking here.