SBL Press Bookstore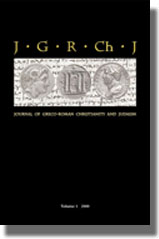 Journal of Greco-Roman Christianity and Judaism 1
Stanley E. Porter, Matthew Brook O'donnell; Wendy J. Porter, editor
Publication Date
November 2006
Hardback
$140.00
This is the first volume of the hard-copy edition of a journal that has been published online (www.macdiv.ca/jgrchj) since 2000. Volume 1 is for 2000, Volume 2 will be for 2001–2004, and Volume 3 for 2005. As they appear, the hard-copy editions will replace the online materials.
The scope of JGRChJ is the texts, language and cultures of the Graeco-Roman world of early Christianity and Judaism. The papers published in JGRChJ are designed to pay special attention to the 'larger picture' of politics, culture, religion and language, engaging as well with modern theoretical approaches.
CONTENTS
Ancient Jewish Bibliomancy
—Pieter W. van der Horst
A New Testimony to the Letter to the Hebrews
—Amphilochios Papathomas
Dionysios Halikarnasseus, the Art of Composition and the Apostle Paul
—Chrys C. Caragounis
False Prophets (4Q339), Netinim (4Q340), and Hellenism at Qumran
—Shaye J. D. Cohen
Mark's Incipit and the Priene Calendar Inscription: From Jewish Gospel to Greco-Roman Gospel
—Craig A. Evans
Why the Split? Christians and Jews by the Fourth Century
—Stanley E. Porter and Brook W.R. Pearson
Particularistic Judaism and Universalistic Christianity? Some Critical Remarks on Terminology and Theology
—Anders Runesson
A Semantic Study of
authentes
and Its Derivatives
—Al Wolters
"Wide Is the Gate and Spacious the Road That Leads to Destruction": Matthew 7.13 in Light of Archaeological Evidence
—Michael Knowles
Stanley E. Porter is President and Dean, and Professor of New Testament, at McMaster Divinity College, Hamilton, Ontario. Matthew Brook O'Donnell is Director of Research and Development for OpenText.org, and Adjunct Professor at McMaster Divinity College, Hamilton, Ontario. Wendy J. Porter is Director of Music and Worship at McMaster Divinity College, Hamilton, Ontario.
The SBL is the North American distributor for Sheffield Phoenix Press. Customers outside of North America can purchase this book directly from Sheffield Phoenix by clicking here.