SBL Press Bookstore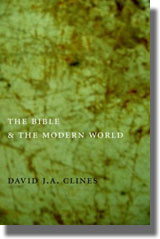 The Bible and the Modern World
David J. A. Clines
Publication Date
January 2010
Paperback
$18.95
In the world of scholarship, the Bible is usually viewed as a ancient book, a product of the past, an inheritance, a heritage; it is essentially a book with origins. These lectures adopt an opposite starting point: that the Bible is in the modern world, a physical object strewn about the world of today, an in-print book that real people are reading at this very minute.
So the focus here is not on the origins of the Bible but on its reception, not of what its authors may have intended it to mean but on what its readers today take it to mean. In conversational style, David Clines enquires after the Bible and the Academy, the Bible and Culture, the Bible and the Public, the Bible and the Church—and offers his own reflections and admonitions.
This is a corrected reprint of the 1997 edition.
David Clines is Professor Emeritus, Department of Biblical Studies, University of Sheffield.
"This series of lively lectures explains the place the Bible has in contemporary British life, i.e. in the media, radio, newspapers, and church services. Clines is here at his best: reader-oriented (in the sense of an exegetical option), witty, interesting, entertaining, sound, and, above all, quite convincing."
Bernhard Lang, Internationale Zeitschriftenschau für Bibelwissenschaft und Grenzgebiete
"David Clines is a tireless asker of questions about the way the Bible functions and may be used … This book both disarms (it is so plainly honest) and challenges (it is so uncomfortably right) … The message is that, with interpretation always on the move, the churches have a long way to go in letting their members use the Bible with honesty and candour and in endorsing elementary truths about the Bible's make-up and formation. There are issues here about power and fear as factors in the insistence on certainty at any price. This book is an education in realism."
Leslie Houlden, Theology
The SBL is the North American distributor for Sheffield Phoenix Press. Customers outside of North America can purchase this book directly from Sheffield Phoenix by clicking here.