SBL Press Bookstore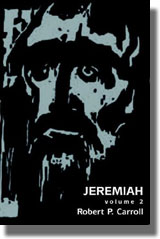 Jeremiah, Volume 2
Robert P. Carroll
Publication Date
February 2007
Paperback
$25.00
In this remarkable commentary, first published in 1986, Carroll offered the first systematic study of the book that turned its back on the prevailing trend to use the book to reconstruct the historical Jeremiah, propounding rather the view that the book was the compilation of many small units, much edited and reworked, that were rarely connected originally with a prophet Jeremiah.
Carroll's work has all the expected features of a major biblical commentary: thorough investigation of the original text, in this case also of the sharply divergent Septuagint translation; deep acquaintance with the scholarly literature on the book; unceasing close reading of the work in its final shape and in its detail. But it adds a distinctively Carrollian dimension: its unrelenting analysis of the often conflicting ideological and theological forces that created every aspect of the book, demanding of its readers that they approach it as an unremittingly intellectual literary work.
Unaccountably, this commentary, published originally in the Old Testament Library series of Westminster Press in the U.S. and SCM Press in the U.K., has gone out of print. Sheffield Phoenix Press offers this reprinted edition both because of its continuing significance and as a personal tribute to its author, whose untimely death occurred in 2000.
"Erudite, extremely readable, and highly engaging … a magnificent achievement."
—Henry T.C. Sun,
Bulletin of the American Schools of Oriental Research
"Will remain a valuable resource through its careful analysis and its dialogue with other contemporary perspectives on the book and the prophet."
—Donn F. Morgan,
Catholic Biblical Quarterly
"Resolutely pressing fundamental questions whose engagement will draw one deeply into the book … a landmark."
—J. Gerald Janzen,
Journal of Biblical Literature
Robert Carroll was Professor of Hebrew Bible and Semitic Studies in the Department of Theology and Religious Studies at the University of Glasgow.
Click here for volume 1.
The SBL is the North American distributor for Sheffield Phoenix Press. Customers outside of North America can purchase this book directly from Sheffield Phoenix by clicking here.