SBL Press Bookstore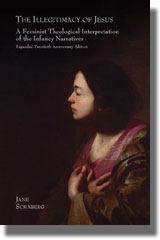 The Illegitimacy of Jesus: A Feminist Theological Interpretation of the Infancy Narratives (Expanded Twentieth Anniversary Edition)
Jane Schaberg
Publication Date
November 2006
Paperback
$25.00
This work of impeccable New Testament scholarship was a sensation when it was first published in 1987. Jane Schaberg argued that Matthew and Luke were aware that Jesus had been conceived illegitimately, probably as a result of a rape of Mary, and had left in their Gospels some hints of that knowledge, even though their main purpose was to explore the theological significance of Jesus' birth. By having the Messiah born out of the exploitation of a woman of the poor, God demonstrates the vindication of the oppressed in a truly miraculous manner. Exegetical precision, theological passion, and an exquisite prose style are combined in this landmark book, whose importance is yet to be fully recognized.
Perhaps not surprisingly, the book and its author were vilified, even though scholarly reviewers found much to praise in it, and it still features on many classroom reading lists. For this Anniversary Edition, we have added Schaberg's own disturbing account of the reception of the book and two extensive responses—one respectfully dissenting, one fully supportive—from other New Testament scholars.
CONTENTS
Jane Schaberg, "Feminism Lashes Back: Responses to the Backlash"
The Illegitimacy of Jesus
Jane Schaberg, "Feminist Interpretations of the Infancy Narrative of Matthew"
Frank Reilly, "Jane Schaberg, Raymond E. Brown, and the Problem of the Illegitimacy of Jesus"
David T. Landry, "Illegitimacy Reconsidered"
"The Illegitimacy of Jesus is an important study, inviting us not only to read the Gospel stories from an unaccustomed perspective, but also to reread our own assumptions and prejudices … [I]n my opinion, the case has been skilfully made, through tight exegetical argument, for an alternative interpretation of the text."
Carolyn Osiek, Cross Currents
"A provocative, disturbing, exciting book. Schaberg has done a marvellous, sensitive scholarly job on a most sensitive subject.… This study deserves a place in every library concerned with biblical interpretation as well as a honored place in modern feminist reinterpretation. It is a book that is hard to put down."
Lamar Cope, Religious Studies Review
"A painstakingly researched and very carefully argued book. Its thesis challenges those in the exegetical community who hold on to well-worn orthodoxies. More importantly, Schaberg's work provides a feminist perspective on the historical woman, Mary, who like any woman had to face sexual violence. I highly recommend the book."
Elisabeth Schüssler Fiorenza
Jane Schaberg is Professor of Religious Studies and Women's Studies at University of Detroit Mercy.
The SBL is the North American distributor for Sheffield Phoenix Press. Customers outside of North America can purchase this book directly from Sheffield Phoenix by clicking here.