SBL Press Bookstore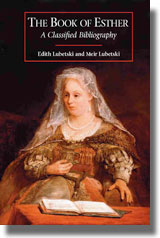 The Book of Esther: A Classified Bibliography
Edith Lubetski, Meir Lubetski
Publication Date
October 2008
Hardback
$110.00
This comprehensive bibliography to scholarly works on the biblical book of Esther contains over 1,900 references. It includes titles of books, collected works, Festschriften, theses, journal articles, essays in collections, encyclopaedia and dictionary articles, and online material. It is a classified bibliography, arranged in three main categories: commentaries, biblical chapters and verses, and subject headings in alphabetical order.
The scope of the bibliography is international, and its focus is on research from the last hundred years. Scholars, students, clergy, and librarians—among them literary scholars, psychologists, sociologists, historians, linguists, art historians, political scientists, feminists, and Christian and Jewish scholars—will find this unique volume an indispensable resource and stimulus to further research. A special feature of the bibliography is its extensive coverage of Jewish sources.
This volume received an "Honorable Mention" in the 2008 Judaica Reference and Bibliography Awards.
Edith Lubetski is Head Librarian of the Hedi Steinberg Library, Yeshiva University, New York. Meir Lubetski is Professor of Modern Languages and Comparative Literature, Baruch College, City University of New York.
The SBL is the North American distributor for Sheffield Phoenix Press. Customers outside of North America can purchase this book directly from Sheffield Phoenix by clicking here.