SBL Press Bookstore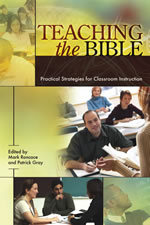 Teaching the Bible: Practical Strategies for Classroom Instruction
Mark Roncace, Patrick Gray
Publication Date
November 2005
Paperback
$42.00
While books on pedagogy in a theoretical mode have proliferated in recent years, there have been few that offer practical, specific ideas for teaching particular biblical texts. To address this need, Teaching the Bible, a collection of ideas and activities written by dozens of innovative college and seminary professors, outlines effective classroom strategies—with a focus on active learning—for the new teacher and veteran professor alike. It includes everything from ways to incorporate film, literature, art, and music to classroom writing assignments and exercises for groups and individuals. The book assumes an academic approach to the Bible but represents a wide range of methodological, theological, and ideological perspectives. This volume is an indispensable resource for anyone who teaches classes on the Bible.

Mark Roncace is Assistant Professor of Religion at Wingate University in Wingate, North Carolina, and author of Jeremiah, Zedekiah, and the Fall of Jerusalem (T&T Clark).
Patrick Gray is Assistant Professor of Religious Studies at Rhodes College in Memphis, Tennessee, and author of Godly Fear: The Epistle to the Hebrews and Greco-Roman Critiques of Superstition (Society of Biblical Literature).