SBL Press Bookstore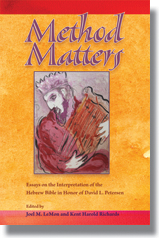 Method Matters: Essays on the Interpretation of the Hebrew Bible in Honor of David L. Petersen
Joel M. Lemon, Kent Harold Richards
Publication Date
November 2009
Paperback
$52.00
As the field of biblical studies expands to accommodate new modes of inquiry, scholars are increasingly aware of the need for methodological clarity. David L. Petersen's teaching, research, and service to the guild are marked by a commitment to such clarity. Thus, in honor of Petersen's work, a cohort of distinguished colleagues present this volume as an authoritative and up-to-date handbook of methods in Hebrew Bible scholarship. Readers will find focused discussions of traditional and newly emerging methods, including historical criticism, ideological criticism, and literary criticism, as well as numerous case studies that indicate how these approaches work and what insights they yield. Additionally, several essays provide a broad overview of the field by reflecting on the intellectual currents that have generated and guided contemporary biblical scholars.
The contributors are Yairah Amit, Pablo R. Andiñach, Alan J. Avery-Peck, John Barton, Bruce C. Birch, Susan Brayford, William P. Brown, Walter Brueggemann, Mark K. George, William K. Gilders, John H. Hayes, Christopher B. Hays, Ralph W. Klein, Douglas A. Knight, Beatrice Lawrence, Joel M. LeMon, Christoph Levin, S. Dean McBride Jr., James Luther Mays, Carol A. Newsom, Kirsten Nielsen, Martti Nissinen, Gail R. O'Day, Thomas Römer, C. L. Seow, Naomi Steinberg, Brent A. Strawn, Marvin A. Sweeney, Gene M. Tucker, and Robert R. Wilson.
Joel M. LeMon is Assistant Professor of Old Testament at Emory University. Kent Harold Richards is Professor of Old Testament and Executive Director of the Society of Biblical Literature. He is the co-author of Interpreting Hebrew Poetry (Augsburg Fortress) and co-editor of Second Temple Studies: Volume 2, Temple Community in the Persian Period (Sheffield Academic Press) and Old Testament Interpretation: Past, Present, and Future. Essays in Honor of Gene M. Tucker (Abingdon)
Click here for a printable publication sheet, including table of contents, that you can put in your files or give to your librarian or bookstore.