SBL Press Bookstore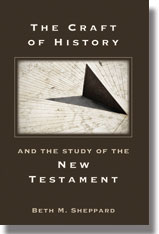 The Craft of History and the Study of the New Testament
Beth M. Sheppard
Publication Date
November 2012
Paperback
$35.00
Do professional historians and New Testament scholars use the same methods to explore the past? This interdisciplinary textbook introduces students of the New Testament to the vocabulary and methods employed by historians. It discusses various approaches to historiography and demonstrates their applicability for interpreting the New Testament text and exploring its background. Overviews of the philosophy of history, common historical fallacies, and the basics of historiography are followed by three exegetical studies that illustrate the applicability of various historical methods for New Testament interpretation.
Beth M. Sheppard holds a Ph.D. in New Testament from the University of Sheffield. She is Director of the Duke Divinity School Library and Associate Professor of the Practice of Theological Bibliography.
Download volume front matter, including table of contents and introduction.