SBL Press Bookstore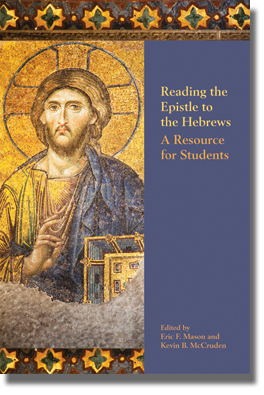 Reading the Epistle to the Hebrews
Eric F. Mason, Kevin B. Mccruden
Publication Date
October 2011
Paperback
$42.00
Reading the Epistle to the Hebrews: A Resource for Students addresses major issues in the interpretation of this important but complex biblical text and provides an introduction to contemporary scholarship on Hebrews. With contributions from an international team of leading scholars on Hebrews and related fields, this volume reflects the most recent trends in the study of Hebrews and is designed for classroom use by students in both undergraduate and graduate programs. The various chapters emphasize the importance of interpreting Hebrews in light of its ancient Jewish, Christian, and Greco-Roman contexts and address major interpretive issues, including genre, conceptual backgrounds, Hebrews' use of Scripture and biblical themes, the theology of the letter and major theological issues in its reception, emerging interpretive approaches, and the use of the book in the history of Christian thought and worship.
Eric F. Mason is Associate Professor of Biblical Studies and chair of the Department of Biblical and Theological Studies at Judson University. He is the author of 'You Are a Priest Forever': Second Temple Jewish Messianism and the Priestly Christology of the Epistle to the Hebrews (Brill).
Kevin B. McCruden is Associate Professor of Religious Studies at Gonzaga University. He is the author of Solidarity Perfected: Beneficent Christology in the Epistle to the Hebrews (de Gruyter).
Click here for the volume front matter, including the table of contents and introduction.
Click here for a printable publication sheet that you can put in your files or give to your librarian or bookstore.