SBL Press Bookstore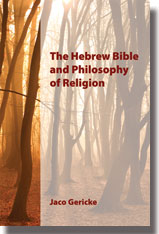 The Hebrew Bible and Philosophy of Religion
Jaco Gericke
Publication Date
November 2012
Hardback
$82.00
This study pioneers the use of philosophy of religion in the study of the Hebrew Bible. After identifying the need for a legitimate philosophical approach to Israelite religion, the volume traces the history of interdisciplinary relations and shows how descriptive varieties of philosophy of religion can aid the clarification of the Hebrew Bible's own metaphysical, epistemological, and moral assumptions. Two new interpretative methodologies are developed and subsequently applied through an introduction to what the biblical texts took for granted about the nature of religious language, the concept of deity, the properties of Yhwh, the existence of gods, religious epistemology, and the relation between religion and morality.
Jaco Gericke is Senior Lecturer in the Faculty of Humanities at North-West University (Vaal Triangle), South Africa.
Download volume front matter, including table of contents and introduction.