SBL Press Bookstore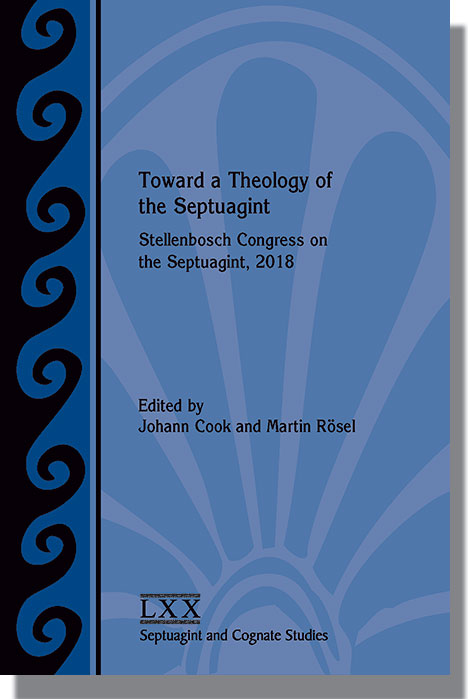 Toward a Theology of the Septuagint: Stellenbosch Congress on the Septuagint, 2018
Johann Cook, Martin Rösel, editors
Publication Date
July 2020
Paperback
$60.00
Innovative Septuagint research from an international group of scholars
Toward a Theology of the Septuagint: Stellenbosch Congress on the Septuagint, 2018 focuses on the question of whether it is appropriate and possible to formulate a theology of the Septuagint. Nineteen English and German essays examine Old Testament, New Testament, and extrabiblical texts from a variety of methodological perspectives to demonstrate that such a theology is indeed necessary and possible.
Features
Nuanced discussion of whether and how a theology of the Septuagint can be written
Extensive methodological discussions
Close textual studies of biblical, Greek philosophical, and Jewish sources
Abstracts of each essay
Johann Cook is Professor Emeritus at the University of Stellenbosch. He served as the first president of the Association for the Study of the Septuagint in South Africa, was chair for the South African Society for Near Eastern Studies, and was president of the International Organization for the Study of the Old Testament (2013–2016). He is the author of numerous books on the Septuagint and related literature.
Martin Rösel is Professor of Hebrew and Old Testament at the University of Rostock. He served as author and coeditor for Septuaginta Deutsch (the German translation of the Septuagint, supplemented by commentary volumes). Rösel has authored and published numerous articles and books on the Septuagint and other ancient and modern Bible translations.
Download volume front matter, including table of contents and introduction.
Download a printable publication sheet that you can put in your files or give to your librarian or bookstore.
This is Septuagint and Cognate Studies 74.See more available volumes in the SCS series.