SBL Press Bookstore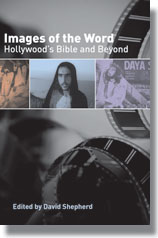 Images of the Word: Hollywood's Bible and Beyond
David Shepherd
Publication Date
November 2008
Paperback
$28.00
Images of the Word: Hollywood's Bible and Beyond is a collection of essays by leading international scholars in the field of Bible and film. Recognizing the increasingly global nature of both media and religion, the volume focuses on the ways in which the Bible is interpreted and visualized not only within Hollywood but also far beyond it. Cutting-edge analysis of films from France, Canada, Sweden, India, and elsewhere reveals that the Bible's visualization is culturally rooted and contributes to the shaping of a particular culture, including its perception of the Bible itself. Essays range across the canon from Exodus to Ecclesiastes to Revelation, interacting with films of various national traditions and periods from Blackton's Life of Moses (1909) to Karunamayudu (1978) to Cronenberg's eXistenZ (1999). The volume engages the breadth of current scholarly interest in this interdisciplinary field, including the critical reading of "Bible films," the exploration of biblical motifs and themes within contemporary cinema, and concluding responses to the essays from both a biblical scholar and a film scholar.
David Shepherd, Ph.D., The University of Edinburgh, is Principal of Belfast Bible College and Honorary Lecturer in the Institute of Theology, Queen's University Belfast. He is the author of Targum and Translation (Van Gorcum) and Seeking Sabbath: A Personal Journey (BRF).
"This collection of essays (Semeia Studies 54) is a welcome addition to biblical scholars' growing critical conversation around the subject of Bible and film. … Without a doubt the strength of this collection is its breadth and sophistication of critical analysis. … Recommended for college courses in film and religion, and Scripture scholars interested in the intersection of Bible and film."
— Jeffrey L. Staley, Biblical Interpretation
CONTENTS
Hollywood's Bible and Beyond
— David Shepherd
ESSAYS
Prolonging
The Life of Moses:
From Spectacle to Story in the Early Cinema
— David Shepherd
The Big Sleep: Strategic Ambiguity in Judges 4–5 and in Classic Film Noir
— Eric S. Christianson
Perversions of Food: Revelation and
eXistenZ
— Jan Willem van Henten
Local Heroes
— George Aichele
The Apocalypse of Andersson: Biblical Echoes in
Songs from the Second Floor
(1999)
— Reinhold Zwick
Barabbas
Rewrites the Cross: Parody or Parable?
— Richard Walsh
Caiaphas on Camera
— Adele Reinhartz
Camera as Character in Philip Saville's
The Gospel of John
— Jo-Ann A. Brant
Karunamayudu:
Seeing Christ Anew in Indian Cinema
— Dwight H. Friesen
RESPONSES
"The Beginning of a Beautiful Friendship": A Response from Film Studies
— Richard A. Blake, S.J.
Decoding, Meta-narrativizing, and Making Analogies: A Response from Biblical Studies
— Rosamond C. Rodman