SBL Press Bookstore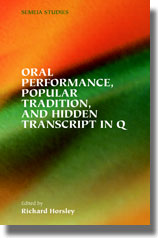 Oral Performance, Popular Tradition, and Hidden Transcript in Q
Richard A. Horsley; Richard Horsley, editor
Publication Date
November 2006
Paperback
$38.00
This collection of essays pursues two new approaches to Q, the speeches of Jesus paralleled in the Gospels of Matthew and Luke. The essays in part 1 suggest that recent work in ethnopoetics, the ethnography of performance, and theory of verbal art (especially that of John Miles Foley) both complements and challenges standard approaches to the teaching of Jesus. They explore how Q speeches might be appreciated as oral performance that resonates with listeners in a community context by referencing Israelite popular tradition. The essays in part 2 examine how the work of anthropologist and political scientist James C. Scott on popular tradition, "the moral economy of the peasant," and "hidden transcripts" may illuminate the social context and political implications of Q speeches.
Richard A. Horsley is Distinguished Professor of Liberal Arts and the Study of Religion at the University of Massachusetts Boston. Among his numerous books are Archaeology, History, and Society in Galilee (Trinity Press International, 1996), Whoever Hears You Hears Me: Prophecy, Performance, and Tradition in Q (with Jonathan Draper; Trinity Press International 1999); Hearing the Whole Story: The Politics of Plot in Mark's Gospel (Westminster/ John Knox, 2001); Jesus and Empire (Fortress Press, 2003), and the award-winning Bandits, Prophets, and Messiahs (Trinity Press International, 1999).
CONTENTS
Part 1: Oral Performance and Popular Tradition in Q
Verbal Art in Q and the Gospel of Thomas: A Question of Epistemology
—Werner Kelber
Performance and Tradition: The Covenant Renewal Speech in Q
—Richard A. Horsley
Jesus' "Covenantal Discourse" on the Plain (Luke 6:12–7:17) as Oral Performance: Pointers to "Q" as Multiple Oral Performance
—Jonathan A. Draper
Response to Kelber, Horsley, and Draper
—Joanna Dewey
Oral Performance in Q: Epistemology, Political Conflict, and Contextual Register
—Vernon K. Robbins
The Riddle of Q: Oral Ancestor, Textual Precedent, or Ideological Creation?
—John Miles Foley
Part 2: Moral Economy and Hidden Transcript: Applying the Work of James C. Scott to Q
Moral Economy and Renewal Movement in Q
—Richard A. Horsley
The Jesus Movement in the Villages of Roman Galilee: Archaeology, Q, and Modern Anthropological Theory
—Milton Moreland
Going Public with the Hidden Transcript in Q 11: Beelzebul Accusation and the Woes
—Alan Kirk
Communities Resisting Fragmentation: Q and the Work of James C. Scott
—David L. Barr
The Work of James C. Scott and Q
—William R. Herzog II