SBL Press Bookstore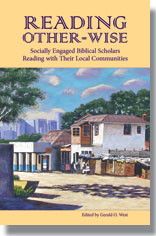 Reading Other-wise: Socially Engaged Scholars Reading with Their Local Communities
Gerald West
Publication Date
September 2007
Paperback
$27.00
How do ordinary Bible readers "other" than scholars collaborate with academics in interpretation that focuses on the various contexts and realities of their lives and local communities? Often neglected in the scholarly guild, these readers' voices are heard throughout the essays in this volume, which explore interpretation at the intersection of faith communities and the academy from a variety of cross-cultural perspectives and locations, such as South Africa, India, Jamaica, Brazil, the United Kingdom, and the United States. This collection provides a rich array of resources and challenges, sharing insights that academics and nonacademics alike can offer to face the many struggles of our time.
Gerald O. West is Professor of Religion and Theology at University of KwaZulu-Natal in Pietermaritzburg, South Africa. He is the author of Biblical Hermeneutics of Liberation: Modes of Reading the Bible in the South African Context (Cluster/Orbis) and The Academy of the Poor: Towards a Dialogical Reading of the Bible (Sheffield Academic Press), and the co-editor of The Bible in Africa: Transactions, Trajectories and Trends (Brill).
CONTENTS
Reading Other-wise: Socially Engaged Biblical Scholars Reading with Their Local Communities: An Introduction
—Gerald O. West
Ye ma wo mo!
African Hermeneuts, You Have Spoken at Last: Reflections on
Semeia
73 (1996)
—Eric Anum
"Dear God! Give Us Our Daily Leftovers and We Will Be Able to Forgive Those Who Trouble Our Souls": Some Perspectives on Conversational Biblical Hermeneutics and Theologies
—Mogomme Alpheus Masoga
(Ac)Claiming the (Extra)Ordinary African "Reader" of the Bible
—Gerald O. West
"Ordinary" Reading in "Extraordinary" Times: A Jamaican Love Story
—Stephen C. A. Jennings
Who Was Hagar? Mistress, Divorcee, Exile, or Exploited Worker: An Analysis of Contemporary Grassroots Readings of Genesis 16 by Caucasian, Latina, and Black South African Women
—Nicole M. Simopoulos
Remembering the Bible as a Critical "Pedagogy of the Oppressed"
—Janet Lees
Journeying with Moses toward True Solidarity: Shifting Social and Narrative Locations of the Oppressed and Their Liberators in Exodus 2–3
—Bob Ekblad
"How Could He Ever Do That to Her?!" Or, How the Woman Who Anointed Jesus Became a Victim of Luke's Redactional and Theological Principles
—Monika Ottermann
Bible and Citizenship
—Valmor Da Silva
The Bible in British Urban Theology: An Analysis by a Finnish Companion
—Kari Latvus
Reading Other-wise
—Naveen Rao
Growing Together: Challenges and Chances in the Encounter of Critical and Intuitive Interpreters of the Bible
—Werner Kahl