SBL Press Bookstore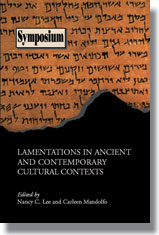 Lamentations in Ancient and Contemporary Cultural Contexts
Nancy C. Lee, Carleen Mandolfo
Publication Date
August 2008
Paperback
$37.00
Personal tragedy and communal catastrophe up to the present day are universal human experiences that call forth lament. Lament singers—from the most ancient civilizations to traditional oral poets to the biblical psalmists and poets of Lamentations to popular singers across the globe—have always raised the cry of human suffering, giving voice to the voiceless, illuminating injustice, or pleading for divine help. This volume gathers an international collection of essays on biblical lament and Lamentations, illuminating their genres, artistry, purposes, and significant place in the history and theologies of ancient Israel. It also explores lament across cultures, both those influenced by biblical traditions and those not, as the practices of composition, performance, and interpretation of life's suffering continue to shed light on our knowledge of biblical lament.
Nancy C. Lee, Ph.D. (2000) in Hebrew Bible, Union Seminary/PSCE, is Associate Professor of Religious Studies at Elmhurst College in Elmhurst, Illinois. She is the author of The Singers of Lamentations: Cities Under Siege, from Ur to Jerusalem to Sarajevo (Brill), editor of Between Despair and Lamentation (Elmhurst College), and contributed on Lamentations for the NRSV Discipleship Study Bible (Westminster/John Knox).
Carleen Mandolfo, Ph.D. (2000) in Hebrew Bible, Emory University, is Associate Professor of Religious Studies at Colby College in Waterville, Maine. She is the author of God in the Dock: Dialogic Tension in Psalms of Lament (Sheffield Academic Press), Daughter Zion Talks Back to the Prophets: A Dialogic Theology of the Book of Lamentations (Society of Biblical Literature), and co-author of From Earth's Creation to John's Revelation: The Interfaces Biblical Storyline Companion (Liturgical Press).
CONTENTS
Part 1. The Biblical Book of Lamentations
On Writing a Commentary on Lamentations
— Adele Berlin
Lamentations from Sundry Angles: A Retrospective
— F. W. Dobbs-Allsopp
Voices Arguing about Meaning
— Kathleen O'Connor
The Singers of Lamentations: (A)scribing (De)claiming Poets and Prophets
— Nancy C. Lee
Talking Back: The Perseverence of Justice in Lamentation
— Carleen Mandolfo
Surviving Lamentations (One More Time)
— Tod Linafelt
Part 2. Biblical Lament: Communal, Penitential, Individual …
Lament and the Arts of Resistance: Public and Hidden Transcripts in Lamentations 5
— Robert Williamson Jr.
The Priceless Gain of Penitence: From Communal Lament to Penitential Prayer in the "Exilic" Liturgy of Israel
— Mark J. Boda
The Articulate Body: The Language of Suffering in the Laments of the Individual
— Amy C. Cottrill
Part 3. Lament across Cultures
Praise in the Realm of Death: The Dynamics of Hymn-Singing in Ancient Near Eastern Lament Ceremony
— Erhard S. Gerstenberger
Engaging Lamentations and
The Lament for the South:
A Cross-Textual Reading
— Archie Chi Chung Lee
The Revival of Lament in Medieval
Piyyutim
— William Morrow
The Lament Traditions of Enslaved African American Women and the Lament Traditions of the Hebrew Bible
— Wilma Ann Bailey
Selections from
Between Despair and Lamentation
— Borislav Arapovic
Lamenting the Dead in Iraq and South Africa: Transitioning from Individual Trauma to Collective Mourning Performances
— Kimberly Wedeven Segall
The Poetry of Job as a Resource for the Articulation of Embodied Lament in the Context of HIV and AIDS in South Africa
— Gerald West
A Lament for New Orleans
— Clyde Fant
Part 4. Retrospective/Prospective, Continuing Relevance
Lament as Wake-Up Call (Class Analysis and Historical Possibility)
— Walter Brueggemann