SBL Press Bookstore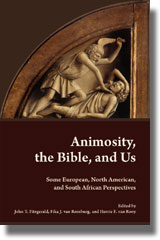 Animosity, The Bible, and Us: Some European, North American, and South African Perspectives
John T. Fitzgerald, Fika J. Van Rensburg, Herrie F. Van Rooy
Publication Date
August 2009
Paperback
$48.00
Animosity in its various forms, including enmity, war, homicide, domestic violence, religious hostility, and retaliation, is a perennial problem that has plagued every form of interpersonal and international relationship since the dawn of human existence. The essays in this volume, offering perspectives from three continents, examine how animosity is understood and presented in the biblical text and its historical and literary contexts. The authors recognize at the same time that the Bible itself and how it has been used have sometimes contributed to the problem of animosity and thus seek to glean any insights that might address this problem in the contemporary world, which today is a pressing global concern.
John T. Fitzgerald is Professor of Religious Studies at the University of Miami and Professor Extraordinary at North-West University in South Africa. He is the author or editor of many volumes, including Passions and Moral Progress in Greco-Roman Thought (Routledge) and The Writings of St. Paul: Annotated Texts, Reception, and Criticism (Norton), and the past General Editor of the SBL Writings from the Greco-Roman World series. Fika J. van Rensburg is Professor of New Testament and Director of the School of Biblical Studies and Ancient Languages in the Faculty of Theology at North-West University in Potchefstroom, South Africa. His recent publications include Making a Sermon: A Guide for Reformed Exegesis and Preaching (Potchefstroom Theological Publications), and "Metaphors in the Soteriology in 1 Peter: Identifying and Interpreting the Salvific Imageries," in Salvation in the New Testament (ed. J. G. van der Watt; Brill). Herrie F. van Rooy is Professor of Old Testament in the Faculty of Theology at North-West University and the author or editor of a number of titles, including Studies on the Syriac Apocryphal Psalms (Oxford University Press) and Past, Present, Future: The Deuteronomistic History and the Prophets (Brill).
Click here for a printable publication sheet, including table of contents, that you can put in your files or give to your librarian or bookstore.