SBL Press Bookstore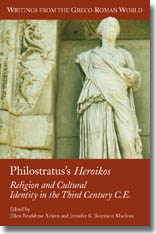 Philostratus's Heroikos: Religion and Cultural Identity in the Third Century C.E.
Ellen Bradshaw Aitken, Jennifer K. Berenson Maclean
Publication Date
November 2004
Paperback
$52.00
This multidimensional collection of essays explores the interrelation of religion, cultural identity, politics, literature, myth, and memory during the Roman Empire by focusing on the cultural dynamics embedded in and surrounding Philostratus's
Heroikos,
an early third-century C.E. dialogue about Homer and the heroes of the Trojan War. The essays focus on ritual and literary dimensions of hero cult; cultural and community identity reflected in the
Heroikos
and in early Christianity; and the cultural, literary, and political turn toward heroes in the negotiation of difference, particularly with those outside the Roman Empire. Contributors to this volume include classicists, archaeologists, ancient historians, and scholars of early Christianity.
This volume is a companion to the new translation of the
Heroikos
published in SBL's Writings from the Greco-Roman World series in two versions:
Flavius Philostratus: Heroikos and Flavius Philostratus: On Heroes.

Ellen Bradshaw Aitken is Associate Professor of Early Christian History and Literature at McGill University in Montreal. Jennifer K. Berenson Maclean is Associate Professor of Religion at Roanoke College in Salem, Virginia.



CONTENTS




PART I. PROTESILAOS: THE WITNESS OF THE HEROES


Singing Heroes—The Poetics of Hero Cult in the Heroikos
—Corinne Ondine Pache

Hero Worship and Christian Beliefs: Observations from the History of Religion on Philostratus's Heroikos
—Hans Dieter Betz

Illuminating the Classics with the Heroes of Philostratus
—Casey Dué and Gregory Nagy

Apollonius of Tyana, Hero and Holy Man
—Christopher Jones

Transferring the Cults of Heroes in Ancient Greece: A Political and Religious Act
—Alain Blomart

Jason, Hypsipyle, and New Fire at Lemnos: A Study in Myth and Ritual
—Walter Burkert



PART II. THE WINEDRESSER: STRATEGIES FOR THE CONSTRUCTION OF CULTURE


Refuting Homer in the Heroikos of Philostratus
—Francesca Mestre

Living in the Past: Allusive Narratives and Elusive Authorities in the World of the Heroikos
—Jeffrey Rusten

Material Witness: An Archaeological Context for the Heroikos
—Susan E. Alcock

Philostratus's Heroikos and Early Christianity: Heroes, Saints, and Martyrs
—Jackson P. Hershbell

The Heroikos and Popular Christianity in the Third Century C.E.
—James C. Skedros

Jesus as Cult Hero in the Fourth Gospel
—Jennifer K. Berenson Maclean



PART III. THE PHOENICIAN: HELLENES AND FOREIGNERS


Philostratus's Heroikos and the Regions of the Northern Aegean
—Simone Follet

The Harvest of Wisdom: Landscape, Description, and Identity in the Heroikos
—Tim Whitmarsh

The [ainoi] of the Heroikos and the Unfolding Transformation of the Phoenician Merchant
—Jennifer K. Berenson Maclean

Why a Phoenician? A Proposal for the Historical Occasion for the Heroikos
—Ellen Bradshaw Aitken

Philostratus's Heroikos and the Ideation of Late Severan Policy toward Arsacid and Sasanian Iran
—M. Rahim Shayegan

Beyond the Euphrates in Severan Times: Mani, Bar Daysan, and the Struggle for Allegiance on the Syrian Frontier
—Sidney H. Griffith