SBL Press Bookstore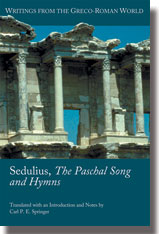 Sedulius, The Paschal Song and Hymns
Carl P. E. Springer
Publication Date
June 2013
Hardback
$54.00
This is the first complete English translation of the poetic works of Sedulius, a Christian Latin poet of late antiquity whose biblical epic and hymns were enormously popular during the Middle Ages and the early modern period. The introduction places the poet and his works into his historical and literary contexts, followed by the Latin text of Sedulius's poetic works with English translation on facing pages. Notes on linguistic and historical matters are designed to help the reader with little or no Latin and only some familiarity with Sedulius's classical and biblical sources. Appendices supply texts and translations of incidental related materials, including Sedulius's dedicatory letters; biographical notices, subscriptions, and laudatory poems associated with Sedulius's works in the manuscript tradition; and representative excerpts from Sedulius's own prose paraphrase of the Paschale Carmen. The volume includes a bibliography and index.
Carl P. E. Springer is Professor in the Department of English Language and Literature and Coordinator of the Interdisciplinary Classical Studies Program at Southern Illinois University Edwardsville. He is the author of Luther's Aesop (Truman State University Press), The Manuscripts of Sedulius: A Provisional Handlist (American Philosophical Society), and The Gospel as Epic in Late Antiquity: The Paschale Carmen of Sedulius (Brill).
Download a printable publication sheet that you can put in your files or give to your librarian or bookstore.
Download volume front matter, including table of contents and introduction.