SBL Press Bookstore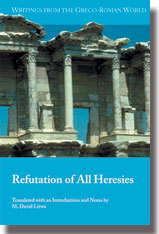 Refutation of All Heresies
M. David Litwa, translator
Publication Date
January 2016
Hardback
$122.00
A reliable, readable translation for scholars and students
The Refutation of All Heresies (ca. 225 CE) is a treasure-trove of ancient philosophy, astrology, medicine, magic, Gnostic thought, numerology, heresiography, ecclesial politics, and early Christian studies in general. Offered here for the first time in almost a century is a full English translation, along with a newly-edited Greek text, extensive notes, and a thorough introduction.
Features:
A full English translation with extensive notes
Newly edited Greek text that avoids the pitfalls of the most recent edition
A thorough-going introduction that addresses the questions of authorship, date, and audience, as well as the purpose of the book, its organization, method, and importance for Gnostic studies
M. David Litwa, Ph.D., is currently Lecturer in Classics at the College of William & Mary. He is author of three other works: We Are Being Transformed: Deification in Paul's Soteriology (2012), Becoming Divine: An Introduction to Deification in Western Culture (2013), and Iesus Deus: The Early Christian Depiction of Jesus as a Mediterranean God (2014).
Download a printable standing order sheet to see other available volumes in the series and to give to your librarian to set up a standing order.