SBL Press Bookstore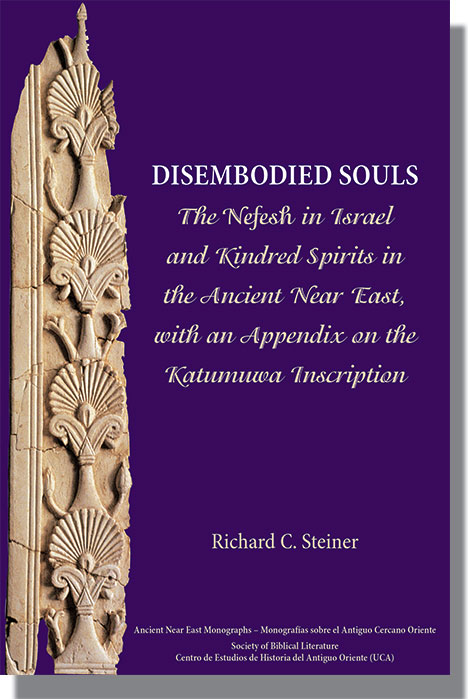 Disembodied Souls: The Nefesh in Israel and Kindred Spirits in the Ancient Near East, with an Appendix on the Katumuwa Inscription
Richard C. Steiner
Publication Date
April 2015
Paperback
$30.00
A reevaluation of the concept of the soul based on the latest evidence
Biblical scholars have long claimed that the Israelites "could not conceive of a disembodied nefesh [soul]." Steiner rejects that claim based on a broad spectrum of textual, linguistic, archaeological, and anthropological evidence spanning the millennia from prehistoric times to the present. The biblical evidence includes a prophecy of Ezekiel condemning women who pretend to trap the wandering souls of sleeping people. The extrabiblical evidence suggests that a belief in the existence of disembodied souls was part of the common religious heritage of the peoples of the ancient Near East.
Features
A re-examination of the evidence for and against disembodied souls in the Hebrew Bible
A new look at the nature and behavior of disembodied souls in the Hebrew Bible
A new study of the meaning and sociolinguistic background of the Katumuwa inscription
Richard C. Steiner is Professor Emeritus of Semitic Languages and Literatures at the Bernard Revel Graduate School of Yeshiva University. His publications include The Case for Fricative-Laterals in Proto-Semitic (American Oriental Society); Affricated Sade in the Semitic Languages (American Academy for Jewish Research); Stockmen from Tekoa, Sycomores from Sheba: A Study of Amos' Occupations (Catholic Biblical Association of America); A Biblical Translation in the Making: The Evolution and Impact of Saadia Gaon's Tafsir (Harvard University Center for Jewish Studies); and Early Northwest Semitic Serpent Spells in the Pyramid Texts (Harvard Semitic Museum/Eisenbrauns).
Download volume front matter, including table of contents and introduction.
Download a printable publication sheet that you can put in your files or give to your librarian or bookstore.
Download a printable standing order sheet to see other available volumes in the series and to give to your librarian to set up a standing order.