SBL Press Bookstore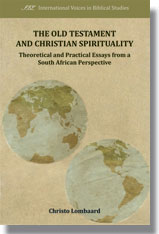 The Old Testament and Christian Spirituality: Theoretical and Practical Essays from a South African Perspective
Christo Lombaard
Publication Date
May 2012
Paperback
$32.00
An engaging anthology that deals with both theory and practice
The emerging discipline of biblical spirituality considers how faith finds expression within the biblical texts and how modern expressions of faith interact with those texts. This volume represents Christo Lombaard's reflective, analytical, and exegetical contributions to the field in order to explore how biblical texts mediate faith, both ancient and contemporary. It reflects on aspects of the interaction of faith and Scripture, critically approaching both dimensions.
Features:
Seven previously published papers drawn predominately from South African journals
Explorations of how biblical texts mediate faith
Close examination of the discipline of biblical spirituality as part of spirituality studies
Christo Lombaard is Professor of Christian Spirituality in the College of Human Sciences at the University of South Africa. He is a recipient of the Krister Stendahl Medal in Biblical Studies, awarded by the Graduate Theological Foundation in recognition of this volume.
Click here for a printable publication sheet that you can put in your files or give to your librarian or bookstore.