SBL Press Bookstore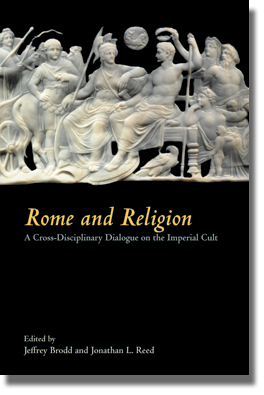 Rome and Religion: A Cross-Disciplinary Dialogue on the Imperial Cult
Jeffrey Brodd, Jonathan L. Reed
Publication Date
November 2011
Paperback
$40.00
Explore the relationship between the Roman imperial cult, early Christianity, and ancient Mediterranean religions.
This collection of essays presents the results of discussions held at national and international SBL meeting sessions sponsored by the Society for Ancient Mediterranean Religions and three SBl program units including: Archaeology of Religion in the Roman World, Art and Religions of Antiquity, and Greco-Roman Religions.
Classicists, biblical and religious scholars, historians, and archaeologists use material culture, epigraphic, and textual evidence to reveal how empire and religion intersected in the ancient world. Contributors include Jonathan L. Reed, Jeffrey Brodd, Karl Galinsky, Steve Friesen, James Constantine Hanges, Eric Orlin, Barbette Stanley Spaeth, Nancy Evans, Dan Schowalter, James S. McClaren, Warren Carter, Robin M. Jensen, L. Michael White, and H. Gregory Snyder.
Jeffrey Brodd is Professor of Humanities and Religious Studies at California State University, Sacramento. He is the author of World Religions: A Voyage of Discovery, Third Edition and Primary Source Readings in World Religions (both from Saint Mary's Press).

Jonathan L. Reed is Dean of the College of Arts and Sciences and Professor of Religion at University of La Verne. He is the author of The HarperCollins' Visual Guide to the New Testament: What Archaeology Reveals about the First Christians (HarperOne) and co-author of In Search of Paul: How Jesus' Apostle Opposed Rome's Empire with God's Kingdom (HarperOne) and Excavating Jesus: Beneath the Stones, Behind the Texts (HarperCollins).
Click here for the volume front matter, including the table of contents and foreword.
Click here for a printable publication sheet that you can put in your files or give to your librarian or bookstore.
Download a printable standing order sheet to see other available volumes in the Writings from the Greco-Roman World Supplement Series and to give to your librarian to set up a standing order.