SBL Press Bookstore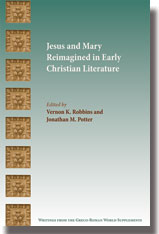 Jesus and Mary Reimagined in Early Christian Literature
Vernon K. Robbins, Jonathan M. Potter, editors
Publication Date
March 2015
Paperback
$47.00
Explore the diverse character of emerging Christian narratives
This book presents essays that show how prophetic and priestly emphases in Luke and Acts, and emphasis on Jesus's existence prior to creation in the Gospel of John, are reworked in some second- and third-century Christian literature. Early Christians interpreted and expressed the storylines of Jesus, Mary, and other important figures in ways that created new images and stories. Contributors show the effect of including rhetography, the rhetoric of a text that prompts images and pictures in the mind of a hearer or reader, in interpretation of texts.
Features:
Readings that attempt to account for the development of richly creative and complicated early Christian traditions
Essays bridging New Testament studies and interpretation of Early Christian literature
Interpretations that integrate social and rhetorical interpretations
Vernon K. Robbins is Professor of New Testament and Comparative Sacred Texts in the Department and Graduate Division of Religion at Emory University.
Jonathan M. Potter is a doctoral student in New Testament in the Graduate Division of Religion at Emory University in Atlanta, Georgia.
Download volume front matter, including table of contents and introduction.
Download a printable publication sheet that you can put in your files or give to your librarian or bookstore.
Download a printable standing order sheet to see other available volumes in the series and to give to your librarian to set up a standing order.