SBL Press Bookstore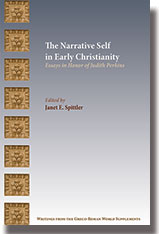 The Narrative Self in Early Christianity: Essays in Honor of Judith Perkins
Janet E. Spittler, editor
Publication Date
September 2019
Paperback
$40.00
Essays that explore early Christian texts and the broader world in which they were written
This volume of twelve essays celebrates the contributions of classicist Judith Perkins to the study of early Christianity. Drawing on Perkins's insights related to apocryphal texts, representations of pain and suffering, and the creation of meaning, contributors explore the function of Christian narratives that depict pain and suffering, the motivations of the early Christians who composed these stories, and their continuing value to contemporary people. Contributors also examine how narratives work to create meaning in a religious context. These contributions address these issues from a variety of angles through a wide range of texts.
Features:
Introductions to and treatments of several largely unknown early Christian texts
Essays by ten women and two men influenced or mentored by Judith Perkins
Essays on the Deuterocanon, the New Testament, and early Christian relics
Janet Spittler is an associate professor in the Department of Religious Studies at the University of Virginia. She is the author of Animals in the Apocryphal Acts of the Apostles: The Wild Kingdom of Early Christian Literature (2008).
Download volume front matter, including table of contents and introduction.
Download a printable publication sheet that you can put in your files or give to your librarian or bookstore.
This is Writings from the Greco-Roman World Supplement 17. See more available volumes in the WGRWSup series.