SBL Press Bookstore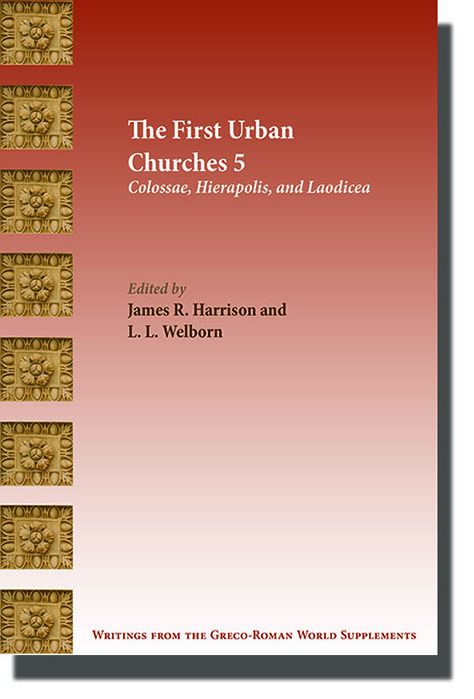 The First Urban Churches 5: Colossae, Hierapolis, and Laodicea
James R. Harrison, L. L. Welborn, editors
Publication Date
November 2019
Paperback
$60.00
A fresh examination of early Christianity by an international team of New Testament and classical scholars
Volume 5 of The First Urban Churches investigates the urban context of Christian churches in first-century Roman Colossae, Hierapolis, and Laodicea. Building on the methodologies introduced in the first volume and supplementing the in-depth studies of Corinth, Ephesus, and Philippi (vols. 2–4), essays in this volume challenge readers to reexamine preconceived understandings of the early church and to grapple with the meaning and context of Christianity in its first-century Roman colonial context.
Features:
Analysis of urban evidence found in inscriptions, papyri, archaeological remains, coins, and iconography
Proposed reconstructions of the past and its social, religious, and political significance
A nuanced, informed portrait of ancient urban life in the cities of the Lycus Valley
James Harrison is professor and Research Director at Sydney College of Divinity. He is author of Paul and the Imperial Authorities at Thessalonica and Rome: A Study in the Conflict of Ideology (2011) and Paul and the Ancient Celebrity Circuit: The Cross and Moral Transformation (2019).
L. L. Welborn is Professor of New Testament and Early Christianity at Fordham University and Honorary Professor of Ancient History at Macquarie University. He is the author of An End to Enmity: Paul and the 'Wrongdoer' of Second Corinthians (2011) and The Young Against the Old: Generational Conflict in First Clement (2018).
This is Writings from the Greco-Roman World Supplement 17. See more available volumes in the WGRWSupseries.