SBL Press Bookstore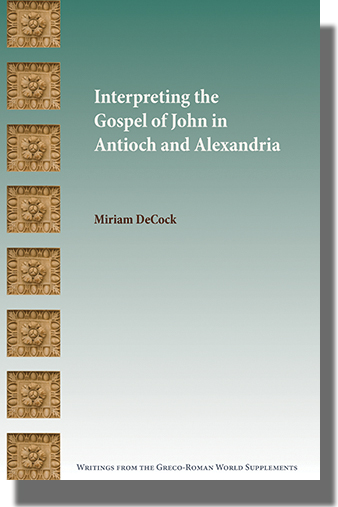 Interpreting the Gospel of John in Antioch and Alexandria
Miriam DeCock
Publication Date
December 2020
eBook
$40.00
A nuanced study of early Christian exegesis
Miriam DeCock analyzes four important early Christian treatments of the Gospel of John, including commentaries by Origen and Cyril from the Alexandrian tradition and the homilies of John Chrysostom and the commentary of Theodore of Mopsuestia, which represent Antiochian traditions. DeCock maintains that the traditional distinction between nonliteral and literal interpretations in these two early Christian centers remains helpful despite recent challenges to the paradigm. She argues that a major and abiding distinction between the two schools lies in the manner in which Alexandrian and Antiochian authors apply the gospel text to their respective communities. DeCock demonstrates that the Antiochenes find primarily literal moral examples and doctrinal teachings in John's Gospel, whereas the Alexandrians find both these and nonliteral teachings concerning the immediate situation of the church and of its individual members.
Features
An examination of each author's interpretations of a selection of texts
Focused explorations of John 2; 4; and 9–11 in early Christian exegesis
A study of early literal non-literal interpretations of John's Gospel
Miriam DeCock is a Marie Skłodowska-Curie Postdoctoral Fellow in Theology at Aarhus University's School of Culture and Society. She is the author of several essays on early Christian exegesis, including "Angels, Scripture, and the Exegesis of Origen" Patristica Nordica Annuaria 34 (2019).
This is Writings from the Greco-Roman World Supplement 17. See more available volumes in the WGRWSupseries.